"Childhood Hobbies and Nostalgias"
Post on: January 6, 2021
The year was 1984; I was a fifteen-year-old student enrolled in my neighbourhood school in Redhill estate. It was a school renowned for its sporting prowess and ruggedness.
We were absorbed by the sweeping football craze – my group of friends and I virtually breathe football. After school, we would play soccer and spend most of our time discussing tactics and skills to manoeuvre the ball aptly.
I would save my pocket money to buy "Shoot", a magazine which resonated with the soccer enthusiasts. It was a publication which showcased the lifestyle, regime and strategy adopted by famous players. It also featured many colourful pictures of soccer legends and team posters. Being stalwarts of the game, my friends and I would collect the centre spread pictures and exchange them. I had a flair for sniffing out the sought-after pictures and safeguarded them with pride.
Every weekend, my pastime was scouring for rare pictures at Bras Bash Road which boasted of many bookshops. Besides the academic textbooks, they lay claim to an array of sports magazines. On one occasion, I managed to buy an old edition of "Shoot" which was tantamount to a collector's item. It had pictures of my favourite Manchester United players which were never seen before. I wanted to show them to my buddies and claim my bragging rights. So, I brought them to school the next day.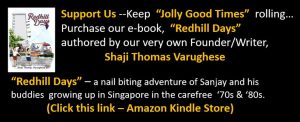 *Ranjit and *Chee Seng were excited to see the pictures. I told them I would show them during the recess break with a commentary behind each picture. But Chee Seng could not wait – he insisted that I lend him the magazine right away and he will discreetly see them during lesson time. "Don't worry, I'll be very careful with your magazine; I value it more than my life" he reassured.
With that, he stealthily read the magazine while admiring the colour pictures during the Mathematics lesson. Just as Murphy's law dictated, *Mrs Lee, our teacher caught Chee Seng in the act. She was a no nonsensical taskmaster who was a strict disciplinarian.
"Stop what you're doing right away!" she barked at Chee Seng. She then marched towards his desk and pulled out the magazine from under his desk. Without any warning, she tore it into pieces. Chee Seng was speechless as he looked at her with trepidation.
I was sitting a row behind him watching the saga unfold with a heavy heart! "There goes my most prized possession – tattered beyond recognition!" I mused.
Mrs Lee was not done. She then gave Chee Seng a tight slap with a parting shot, "You are so weak in Mathematics and dare to read while I teach, you rascal".
It was in the '80s, an era where teachers were accorded with great respect and whatever they did was the order of the day. They could lay their hands on the students whenever they deem fit. Parents were staunchly supportive of their action. "Spare the rod, and spoil the child" was the mantra prevalent among some educators.
When the lesson was over, Chee Seng apologised profusely and felt very bad about it. I was distraught but did not reprimand him as he had been overly punished for his blatant act. His red cheeks bore testament to it. Nevertheless, I could not forgive him for being the cause of my loss — I decided to cut ties with him for taking a cavalier attitude towards my belongings.
However, two days later, my anger dissipated in the soccer field. The game brought us together – the love of soccer took precedence over everything else!
Interestingly ten years later, my family was shifting house to another estate. While I was clearing all my old stuff, I noticed a pile neatly tucked under my bed — a stack of 100-over Shoot magazines covered with dust! I had religiously collected them during my school days which had become forgotten over the ensuing years.
Having outgrown the joy of the hobby, I donated them to a community organisation. A hobby which meant the whole world to me has been superseded by work and consumed by the cares of the world.
As I look back, I realise that material possessions may sometimes rot and trends may change overnight; however, the camaraderie forged and precious moments linger on. We cling on to such nostalgias for a lifetime.
#JollyGoodTimes #ChildhoodHobbiesAndNostalgias #ShajiThomasVarughese
https://www.facebook.com/jollygoodtimes.org/
www.jollygoodtimes.org
Photo: manu mangalassery from Pexels
*Names have been changed.