"The Person Holding You Back"
Post on: August 17, 2020
Richard was the CEO of an established MNC; he had the moniker of a hard taskmaster. His subordinates hated him for his discipline and high expectation from them. He always corrected his employees' mistakes and reiterated their lackadaisical attitude toward work.  The staff, on the other hand, labelled him as a difficult boss. They perceived him as someone who hinders them from climbing the corporate ladder.
One day, the staff were shocked to read a note at the reception counter stating: "The person who held you back from corporate progression has passed away last night. Please proceed to the foyer for the funeral service."
Everyone was stunned to hear the abrupt news. "It was only last night we saw Mr Richard leaving home," they started murmuring. They were ambivalent – on one hand, they felt sad for Richard's family for losing the breadwinner at such a young age. On the other hand, they felt optimistic. The man who held them back is no longer around – a ray of hope beckoned in terms of success at work!
When they reached the foyer, the employees were surprised to see Mr Richard waiting for their arrival. "Then who could have died – is there someone greater than their CEO to have stifled their progression?" they wondered.
One by one, they slowly approached the coffin to pay their respects. They looked inside and were visually dumbfounded. No corpse was in the coffin – only a mirror was in it! When they took a peek, instead of seeing the dead body, they saw their reflection. They could not fathom the implication of what lies within.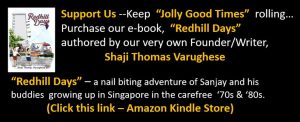 "This day is full of suspense and climaxes" – a phrase which resonated amongst them. They gathered around, still looking confounded when Mr Richard addressed them.
"I know all of you would be wondering about the chain of events happening since morning. Let me explain. The mirror is so aptly placed in the coffin – the main person who stifles your growth is you!
"Do not doubt your capabilities and settle for mediocrity. Break down the walls of self- limiting beliefs and you will reach for the stars. Likewise, you are the only person who can bring success to your life. Now that you have seen the person who has been holding you back, maximise your potential — start living the life that you have been destined to live," the good CEO emphasised.
We can identify ourselves with the story. How often have we blamed the external factors for our lack of success? Henceforth, let us take personal responsibilities for our lives.
Acquire knowledge in your field, sharpen your skills and draw upon your life experiences and that of others who can help you achieve excellence in your endeavours. Though external factors play a part, the key person who limits your progress is You. Likewise, the central person who determines your success is You. "If you think you can, you are right, if you think you can't, you are right too" – your attitude determines success or failure.
#The PersonHoldingYouBack #JollyGoodTimes #ShajiThomasVarughese
https://www.facebook.com/jollygoodtimes.org/
Photo: pexels.com