"A Little Boy's Ingenuity"
Post on: December 22, 2021
A little boy walked into a convenience store. With a look of confidence, he carried a wooden carton over to the telephone which was attached to the wall. It was beyond his reach. He excitedly climbed onto the carton. As soon as he could reach the phone, he dialled a number.
The store owner was curious about the behaviour of the boy and pried on him surreptitiously with much interest. He paid attention to the ensuing conversation the boy had.
Boy: "Good morning, ma'am – can you give me a job of cutting your lawn?
Woman: "I am afraid I'm unable to — I already have someone doing it."
Boy: "I am willing to accept half the amount you are paying the person."
Woman: "That's nice of you; however, I am delighted with the person currently cutting my lawn."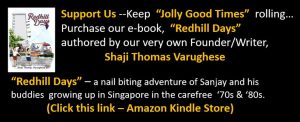 The boy was not willing to give up so easily; he persevered with his "sales pitch".
Boy: "Ma'am, I will organise your garden shed – arrange the tools neatly and tidy it up. I guarantee you will be bowled over by the layout. And I will do all these for free!
Woman: "No, thank you."
The boy was beaming as he put down the receiver. The store owner was very impressed with the boy.
"I like your attitude, boy; you can work here in my store, running errands for me," the store owner offered.
"No, thank you, Sir," the boy replied.
The storekeeper was puzzled. "You were pleading for a job just a while ago. The job here is not that difficult; moreover, you can have coke and pastries—for free!"
The boy replied, "I already have a job, Sir. The lady whom I spoke to is my employer, and I was checking my performance." 
Moral of the story: The boy was embarking on a self-appraisal. It is an assessment of the worth, value, or quality of a person or thing. The true measure of an employee worth his salt is Performance.
I am not suggesting we should test our employers like the little boy, though it could be fun. Instead, we should look inwardly and find out our strengths and weaknesses. Be dedicated to your work; give your best and toil honestly. The rest is magic!
It is always heart-warming to read inspirational stories which uplift us. The Jolly Good Times will be bringing you a series of such motivating stories. They are powerful read; easy to digest and leave behind a message. If you had enjoyed reading, share it — invite your kakis (buddies) to like us on our Facebook and website.
#JollyGoodTimes #ALittleBoy'sIngenuity #ShajiThomasVarughese
https://www.facebook.com/jollygoodtimes.org ; https://jollygoodtimes.org/
Photo: pixabay.com