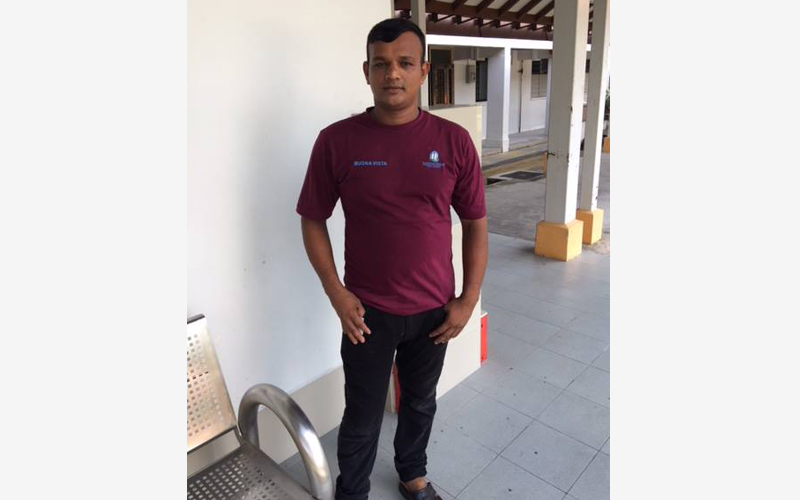 "Kalam's Act Of Kindness"
Post on: May 1, 2018
Imagine an elderly woman approached you for food. She was convalescing from a surgery and looked pale. She was too ill to buy herself food and was clutching her stomach in pain and hunger. However, you had no money to splurge her a decent meal. What would you do?
Kalam sprang into action at the drop of a hat! He borrowed an E-scooter from a resident and whizzed to his storeroom, a ten minutes' ride. He took the packet lunch which he had prepared for himself beforehand and was on his way to deliver it.
Kalam has a heart of gold — the Bangladeshi who is working in Singapore as a cleaner, could not afford to buy her lunch. But that did not deter him from helping — he did not think twice about forgoing his lunch for the elderly lady.
But his ride was not smooth sailing — three policemen halted him in his tracks. For safety purposes, he was not allowed to ride an E-scooter while working. Well, the intervention by the policemen wasn't bad after all — it made him an overnight sensation in Singapore!
Kalam is not an "accidental hero" as portrayed in the movie starring Dustin Hoffman. On the contrary, he was a willing hero! His deed — so spontaneous and selfless impressed the policemen. They took a photograph with him and posted his kind act on their Facebook page. This resulted in a chain of events.
The major newspapers published the story and the Member of Parliament for the Tanjong Pagar constituency where Kalam works, presented him with a Certificate of Appreciation.
Kalam's supervisor was not surprised by his "15 minutes of fame". According to him, Kalam is the kindest soul he has ever met. And this is not an isolated incident — helping others is his innate nature.
I met Kalam in person for an interview and to showcase his story. When asked if he likes working in Singapore, he raved, "I love everything about Singapore — the people, the food and I have benefitted much. I spoke no English when I first arrived 10 years ago. Now, I not only speak English but a smattering of Malay too," he beamed with pride.
The ambitious man aspires to run a fruit stall in Bangladesh one day. He misses his family — comprising his parents, wife and his two-year-old daughter. His visit to his homeland is rare and he can't wait to see his daughter.
When I asked how the newfound fame has affected him, he said the residents frequently updated him with newspaper reports and Facebook post about his story and even splurged him with food and lots of love. They are appreciative of his altruistic deed.
However, Kalam was rather down to earth and has not gotten too big for his shoes! He exudes humility and a possessed a deep penchant for his work. And I could see that his kind act had bridged the divide — residents who passed by acknowledged him during our conversation.
These foreign migrant labourers have become the "Faceless" workers amongst us. They toil relentlessly as construction workers, cleaners, etc to make our city lustrous with state of art buildings and a squeaky clean garden-city it is renowned for.
Yet we sometimes feel our space is encroached by their presence. We are guilty of being judgmental — some amongst us do not feel comfortable with these workers.
There are many unsung heroes like Kalam, who in their quiet demeanour have done worthy deeds which have gone unnoticed. As individuals, we can't take a loudhailer and change the world with our ideologies.
As the adage goes, "As one person I cannot change the world, but I can change the world of one person". Let us embrace their presence and make a concerted effort in knowing them — Just a greeting of "Hello Brother" or thanking them for sprucing up our estate would definitely make the day of a migrant worker…
The Jolly Good Times is heartened to have met Kalam Mohd Abu and publish his story. He did not do it for publicity or fanfare. He was merely doing something which stems from his heart. There abound heroes amongst us. He need not wear a cape like Clark Kent… A selfless and willing heart suffices.
#JollyGoodTimes #KalamActOfKindness #ShajiThomasVarughese
https://www.facebook.com/jollygoodtimes.org/
Photo: George/JollyGoodTimes